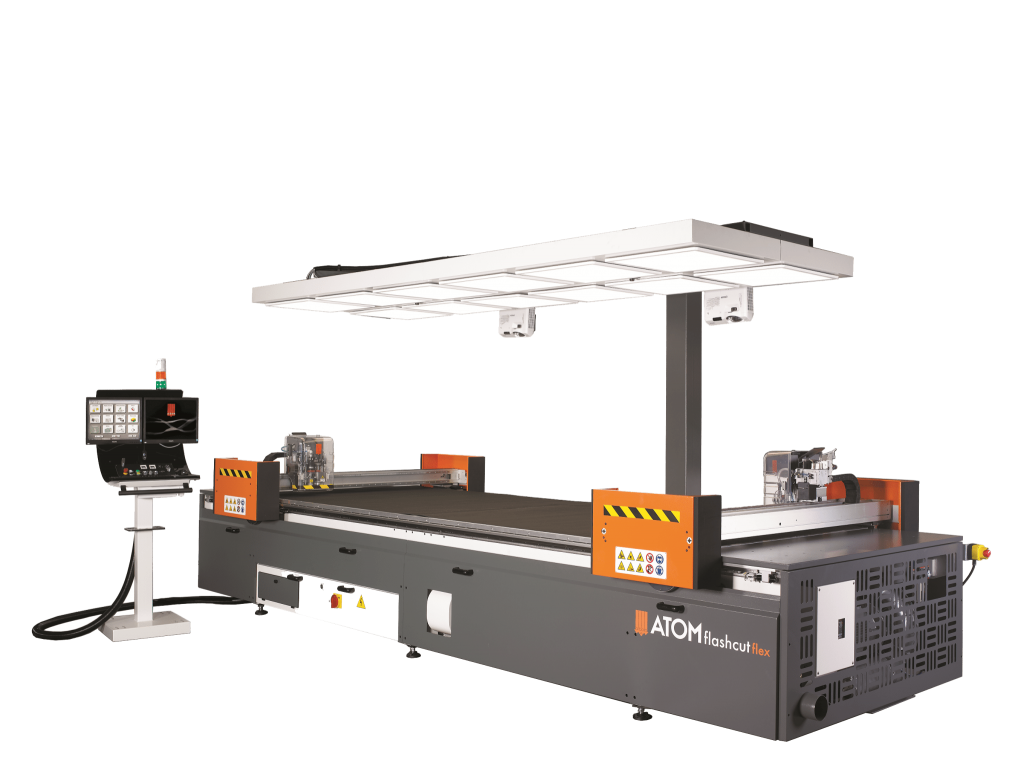 When you're a leader in your field it can be easier sometimes to rest on your laurels rather than add pressures to your business model to improve efficiencies, services and production. But when it comes to Shuk, laurels have been thrown out the window.
Shuk realises they had to step things up, and they have made considerable investment to do so. The purchase of a new machine raises the bar for Shuk and our business partners and customers. This is a game changer for us."
Shuk has definitely flexed its muscles and added plenty of beef to what it can offer through the purchase and soon installation of its new Atom FlashCut Flex 3015 S knife cutting system. In the production of gaskets, he says they are now in a whole new world in terms of their South Island operation.
The new machine will take pride of place in Shuk's Wigram facility in Christchurch in January, and that it's been a personal project of national manager Mike Bint. Mr Bint has some 30 years' experience in the engineering and gasket industry and this knowledge leaves him in no doubt what it will do for the company.
"Shuk is New Zealand's leading manufacturer of gaskets and gasket materials, seals and washers, and a distributor of a wide range of plumbing, drainage and industrial supplies," says Mr Bint. "The FlashCut fills a void we've had in our capabilities, and when it's up and running I can see great things for Shuk and those we do business with."
The Atom Flex series represents the evolution of the previous FlashCut Series of machines. Ideal for cutting semi-rigid and rigid materials, the standard Flex tables can cut materials up to 20 mm thick even the toughest ones, thanks to a robust, precise and state-of-the-art mechanics and electronics. The unit Shuk will install has a cutting capability of 1550mm x 3050mm.
"It's going to make a huge difference for our South Island operation" explains Mr Bint. The Atom CNC Machine will now give Shuk a precision gasket cutter in both the North and South Island", he is in no doubt that it will revolutionise the gasket cutting process for Shuk.
"What was missing from the business was the future proofing," he adds. "We needed to keep up and move forward with technology. I recognised a hole some time ago and was worried if we didn't do something we would continue to fall behind as technology continued its rampage forward. We needed to invest."
So Shuk did just that. "The difference in the industry now is that 20 years ago an engineer would come in and want a gasket and didn't care how it looked. The key thing to them was that it did the job. Today, there's a whole new generation of engineers and designers who expect the gasket to not only function and be accurate, they want it to look perfect. With the new machine we can deliver both worlds."
By moving into new technology Shuk not only delivers to the demands of its client, but speed within the cutting process and of some materials – usually very time consuming and difficult to work with – will be improved. The machine, with its extended capabilities, says Mr Bint, "takes care of that".
"For us this is a game changer. The range of materials we can cut in too has increased. The introduction of this machine will have an impact right across all three Shuk branches."
Mr Bint says that with Shuk flexing its new Atom CNC Machine will not only attract new business but better service Shuk's current client base.
"Shuk has always had the capability to produce and/or supply a full range of standard soft cut, metallic and semi-metallic gaskets but being able to offer more flexibility in materials is a huge feather in our cap."
The company offers a comprehensive range of quality recognised brands of materials, including non-asbestos fibre, flexible graphite, inorganic fibre, modified PTFE styles, and many more, which can be cut to any shape or size. Its most common range is raised face and full-face gaskets to ASME standards. "We keep an extensive range of sheet material in stock be it Klingersil, Garlock Tesnit and Shuk's own range of premium rubber including the new Blue EPDM Potable rubber. This means we can manufacture gaskets for a wide range of clients in many industries, and to a wide range of specifications and tolerances. In addition, we can precision cut non-standard gaskets using our highly sophisticated and technically advanced cutting machines…. and with the Atom CNC Machine we will soon offer so much more."
Do you have a gasket drawing and want professional help? You could always contact us today by clicking the link below:

Contact Us