Chemz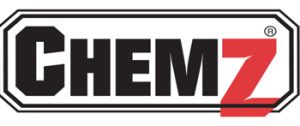 Chemz® is a 100% New Zealand owned and operated manufacturer of aerosol and bulk chemical products made for specific industry sectors, with a product range that focuses on trade quality cleaners, lubricants coatings and maintenance products.
Chemz products works with leading industrial chemists to research and develop formulations for task-specific products. With the best formulations adopted after extensive testing and outcome analysis.
This results-orientated approach is never compromised to reduce costs; instead, costs are controlled through strong supply relationships where Chemz® is valued as a moderator in a market dominated by multinationals.
Chemz® has no desire to be the biggest – just the best. Our aerosol and bulk products are formulated for specific trade markets where reliability and performance are valued:
Plumbing and Drainage
Engineering Agriculture
Horticulture Automotive
Light to Heavy Mobile Plant Marine/Leisure
ChemZ® products are very versatile & can be used for a broad range of applications specialising in the following: Automotive, Cleaners, Lubricants, Maintenance, Coatings, Markers, Technical, Motorcycle, Speciality & Food Grade. Many products are NZFSA approved C12, C15, C22, C23 & C26 (depends on product). If you are undertaking work in these industries or applications, ChemZ® has the right product for you.